After weeks of preparation I was confident that my Fear of Flying Course included everything important about flying. As I wrote the entire text up on the whiteboard I hoped that the Walkers would not grow impatient. Actually, it did not take too long.
It said… FLYING IS SAFE AND FUN!
Looking at what I had written with proud satisfaction, I heard Johnny whispering to his father:
"Dad, that is the lamest course I have ever seen. Dogs know more about flying than this guy."
I contemplated roasting my students, just like in the old days, but I realised he was probably right. There is a little more to it.
So, retrieving some old notes and a slide projector from behind a box of plastic rats I launched into an entertaining discussion about fear of flight, and gave the Walkers knowledge, skills and some memorable insights into the nature of fear itself.
Sounds heavy, right? Luckily, dragons have short attention spans and plenty of tea breaks, so my students found it easy. And so will you…
————————————————
Written and illustrated by an airline pilot in association with a respected Fear of Flying psychologist, Dragons of Thin Air will teach you all you need to know about fear. Complete this easy-to-digest course and you will fly again, happily ever after.
Our Fear of Flying self-help guide… perhaps the most unusual book you
will ever read on the topic, and yet strangely captivating and helpful. For more info visit
DragonsOfThinAir.com
or buy the book!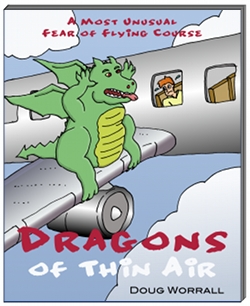 Buy Dragons of Thin Air
$14.95 USD+p&h
Also available from:
Amazon.com (USA)
Amazon.co.uk (UK)
NEW!!!
Now available as an eBook!
Kindle eBook
Nook eBook
iTunes (iBook)
$4.99 USD